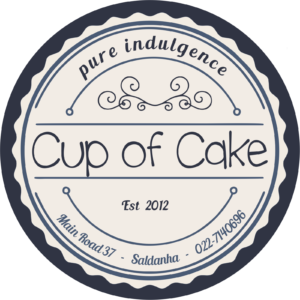 Cup of Cake is a vibrant coffee shop situated on Saldanha's Main Road, in a historical building.
Since its opening in 2012 it became the local meeting place for locals as well as visitors. Here you will find that you may arrive as a stranger but will leave as a friend. Owned and managed by Sanet and Cat, Cup of Cake is the coffee shop in the West Coast with the best cakes, cupcakes, coffee (we serve only Truth Coffee, which is the best) and light meals, made with only the best and freshest ingredients. 
Our range of cakes include chocolate, carrot, and caramel fudge cake, as well as various cheesecakes. We pride ourselves on our choice of cupcakes, including chocolate, lemon meringue, red velvet, black velvet and many more, as there is regularly a new recipe to be tried out. 
Planning an event? You can order an incredibly special cake from us that will be the talk of the town.  Whether you visit the West Coast during flower season, or on a weekend break-away, Cup of Cake is the place to visit. You will feel welcome, from the friendly service to the delicious coffee, cake and food. We love meeting new people, and you will probably leave with some of our pies, home-made fudge, rusks, or FruitLips jam, which is locally produced in Hopefield. 
Stay the whole day, we do not mind! It is not just a coffee shop; it is an experience. Be sure to include us in your itinerary next time you visit the West Coast.